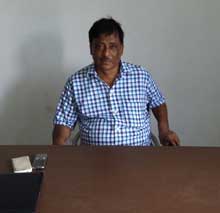 Mr. Md. Jawaherul Hasan
Founder Chairman
AZMET, Kishanganj
It gives me immense pleasure in welcoming you to AL-ZAFAR MEMORIAL EDUCATION TRUST-AZMET.

AL-ZAFAR MEMORIAL EDUCATION TRUST was established at Kishanganj in the year 1999 with the primary objective of social upliftment and educational development of our own district 'Kishanganj' and local district and even for adjacent states of the Bihar.

We have completed 16 years of dedicated services. We are now overwhelmed with a sense of satisfaction and fulfillment, having reached yet another milestone in the development of society through our Trust.

Today's Bihar especially Kishanganj district requires immensely talented and high skilled professionals to meet the needs of the industries. With our efforts directed at providing a genuine platform for aspiring engineering graduates. The AZMET is poised to become one of the most favoured destinations for engineering education. And this is the first private/self-financed Technical Institute in Bihar. We have noticed that inspite being from the best institute, students find it extremely difficult to perform in a commercial/international environment. It is to fill this void that we have made one attempt to introduce an engineering college which will enrich students to set first hand in latest technology age at AZMET. You will be sure to get all this, and more!

AZMET, since its inception has established and is running successfully illustrious educational institutions under the aegis of Al-Zafar Memorial Education Trust, namely
Azmet College of Engineering & Technology, Kishanganj (A Diploma Engg. College established in 2008)
Azmet Institute of Technology, Kishanganj (A Degree Engineering College, since 2011)
Azmet Industrial Training Centre, Patna (An ITI College, since 2010)
Azmet Institute of Technology-2nd shift, Kishanganj (A Diploma Engineering College, since 2014)
All these are rightly appreciated and approved by AICTE and the State Board of Technical Education, Govt. Of Bihar, Aryabhatta Knowledge University, Patna, NCVT which increase the weightage of our Institutions in national and international marketplace. Today, Azmet Group of Institutions has become an icon of technical education in this part of the country. The institute not only symbolizes quality education, it has set the bench mark of education ambience.

Education is the need of our country. As we all know the percentile of educated Indians. A country shall progress rapidly if the overall progress of people is more and more. Like wise the overall progress of a nation resides in its technique. More and more technical personals will serve the country better and best. Technical education is now-a-days more necessary than the traditional ones.

Importance is much awaited specially in the state of Bihar as it is very much needed to be in the mainstream amongst the other State. One can see the difference between Bihar & Other Indian States. Be it Infrastructure, Construction, Industries, Roadways, factories etc. we are struggling for these till now. During the past ten to fifteen years, we are not so confident about all above these. But as the days are passing we are enabling us confidently. Be it any field, we are providing ourselves. We hope in the coming years, we must see metros, bullets, superhighways, International Airports in Bihar. All these will be possible if and if we concentrate our ideas in improving technical educations in Bihar.

There are several other initiatives that the Trust plans to set up. Besides Engineering, Diploma, ITI, School, and Vocational Courses we are also working for start B.Ed. and Nursing College. The application for recognition of B.Ed. College has already submitted to NCTE.

Medical College, Seemanchal University and Residential Schools are the proposed projects of Al-Zafar Memorial Education Trust, Kishanganj.

I am grateful to all our members, staffs, well-wishers and guardians for what we are today. Your patronage, your support, your love, your criticism, your sympathy, your guidance and your selfless cooperation have made our dream come true. We are yet to travel a long way and I am sure that you will be with us in our journey to excellence.

I wish you all to do the very best in all your future endeavors.
Md. Jawaherul Hasan
Founder & Chairman
AZMET, Kishanganj